---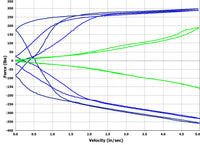 This our first level service to dyno test an adjustable shock and provide that test data to the customer.
Each adjuster will be tested at high, mid, and low settings.  For shocks with multiple adjusters, each comp/reb adjuster will be tested individually while the corresponding adjusters are left at their midrange setting.
Standard dyno test specs:
Shock warm up to

 

95°F
Single point gas force test
Sine wave input
4 runs at peak velocities of 1 in/s, 2 in/s, 5 in/s, and 10 in/s at each shock setting
*Note: This service is only valid for shocks with monoball or bushing connections.  For shocks or struts with alternate mounting such as studs or clamping mechanisms please contact us about current fixturing, options, and fees.